Asheville Spa Parties All Ages Adults Teens Kids Families Groups 4-10-25-50+ on up Wedding Bridal Bachelorette Groom Party Special Events Venues In-Home Office Cabins Hotel B&B Vacation Rental All WNC
Spa Parties Group Parties Birthdays Pink Ladies Red Hats Sister Ya Ya's Bridal-Baby Showers Luncheons Girls/Guy/Family/Friends Day Outs Mobile Onsite Spa Party Events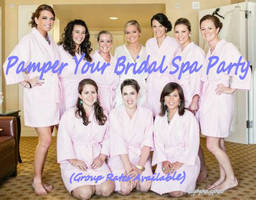 We can customize any spa party idea for your needs or any Social Affair..
Momi n'Me / Kids Teens Day Ladies Night Out Girls Guy Getaways & Bridal Shower Parties 
Bachelorette Bachelor Grooms 

Wedding Events Planning

Corporate Wellness Boss Secretary Appreciation Days

Business Offices: Employee Onsite Chair Massage 

Reunions - Anniversaries or Divorce Parties

Graduation - Proms - Birthday Parties

Little Princess Party - Sweet Sixteen 

Little Kids-Teen Party Sleep Overs

Girl Getaways - Ladies Night In's - Day Outs

All Holidays - Any Special Event 

Baby Showers - Mom Expecting

Sports Fitness Health Wellness Events  

Festivals Schools Churches, 

Receptions - Luncheons

Sister Ya Ya's - Red Hats Pink/Purple Ladies

2-3-4-8 hrs - All day events

Small Groups Required 4-8-10.. on up 

Larger Groups 25-100 on up

We Provide: Spa Party Event Coordination Consultation Decorations Theme Colors Equipment Music, Spa Robes Slippers Aromatherapy Gifts Cert. Event & Wedding Planner 

Organic Chocolate Strawberries - Fruit Trays -  Gluten Free Treats - Lavender Brownies

Any Additional: By Request! Catered Beverages-Herbal Teas Wine Treats Lunches Brunches Wraps Sandwiches Salads Cakes Pies Cupcakes Natural Snacks Choc. Strawberries Fruit Veggie Trays etc.. 

By Cert. Personal Lis Chef - ask about menu options.. 
Adults Girls Ladies Women Mini Spa Parties Packages Bridal Showers
Need a Little Pampering? 

Small Spa Party Groups 4-8-10 Required

Host Gifts Catered Food Organic Spa Products Nail Polishes "Keep Sake" color of your choice    

  

Happy Feet Mini Pedi Party

Hydrating Reflexology Feet Pedi-ssages soaks scrubs warm wraps lavender peppermint moisturizing lower legs feet cuticles nails massages "Keep sake"polish 45m $75 

 

Stress Buster Massage Mini Spa Party:  

30-45m. Aroma NSBK Massage (or) Reflexology Happy Feet 
30-45m $50-$75




Stress Relief Facial Mini Spa Party:  

30-45m. Aroma Facials
$50-$75

Rainbow Mtn Aroma Massage Party: 60m $100

60m. Aromatherapy Massages




Relaxation Massage-Facial Spa Party: 60m $100

30m NSBK Aroma Massage & 30m Facial 




Rejuvenate Mini Spa Party: 60m $100

30m. NSBK Aroma Massage & 30m Foot Reflexology 

 

Pisgah Mtn Bliss: 75m $120

30m Facial & 45m Feet Reflexology w/keep sake polish 

(or) 45m Facial & 30m Feet Reflexology



Pink Purple Red Hat Ladies - Sister Ya Ya's Bridal Spa Party Groups
Pink Rose (or) Lavender Flower Facial Party:
Aroma Facials: Pink Rosewater Petal (or) Lavender Flowers
Pink-Purple Spa Robes Decorations Music
Keep Sake Home Spa Recipe Booklet 
Lavender Rose Bath Body Salts Gift Bags 30-45m $50-$75
Purple Mountain Mist Spa Party 
Lavender Flower Facial & Aroma Massage 60m $100


Lavender Fields Spa Party
Lavender Foot Soak Reflexology Pedi & Hand Mani-ssages Treatments  45m $75
"Pretty N Pink" Pedi Party: 
Pink Pedi Bowls Rose petal Foot Soaks scrubs hydrating Aroma Oils Lotions Warm linens foot wraps Scrub-exfoliate Nails Cuticles Moisturizing Lower Legs & Feet Reflexology Mini Pedi-ssages
Pink Decorations Spa Music Pink Spa Robes Bath/Body Rose Pink Salts Gift Bags
Keep Sake Pink Nail Polishes
Home Spa Recipe Booklet: 
"Natural aroma oils bath body spa products"
45m 75pp
Chocolate Spa Party & Services & Chco. Fountain - Strawberries
Chocolate Massage & Choc. Facial: 75m $125
45m Aroma Massage & 30m Facial 
Chocolate Massage & Herbal Feet Soaks: 75m $125 
45m Aroma Massage & 30m Reflexology
Chocolate Massage & Choc. Body Wrap: 90m $150
45m Body Wrap & 45m Aroma Massage 

Asheville Office: 828-333-4134
Call or Text: 828-230-1441
Email info@appalachianspa.com
Hours Of Operation 
Mon - Sat/Sun.  8am-9pm
7 Days a Week & Holidays
Email: info@appalachianspa.com
Cash-Checks-Credit Cards
Serving Over 100 mile radius ALL Surrounding Locations: Asheville WNC Arden Fairview Fletcher Hendersonville Etowah Valley Gerton Brevard Cashiers Highlands Flat Rock Saluda Tryon Mill Spring Columbus Tuxedo Black Mountain Weaverville Marshall Burnsville Sprucepine Bardnardville Mars Hill Wolfe Laurel Shelby Lake Lure Rutherfordton Forest City Spindale Old Fort Marion Lake James Morganton Hickory Ferguson Lenoir Wilkesboro Blowing Rock Waynesville Maggie Valley Cherokee Robbinsville Bryson City Sylva Canton Candler Cold Mountain
Relax! We Come to You..We're "1st" Traveling Mobile On-site Massage Day Spa Service that provides For All Ages Adults Teens Kids. Asheville WNC Over 18 yrs-40yr in business Tranquility At Your Door Step! Onsite Massages Facials Body Treatments Wraps Scrubs Hand/Feet Reflexology mani/pedis Spa Parties Event Planning Organic Catering Bridal Bachelorette Spa Party Birthday Wedding Event Shuttles Chair Massage Wellness Life Coaching Stress Management Yoga Qi gong, Adventure Spa Waterfall Fitness Hikes, Nutritional Cooking Demo Classes, Custom Spa Vacation Getaways Sound Audio Engineer Videos Photography Live Music .  
Business Concept Copyright & Trademark 2000-2018