About Us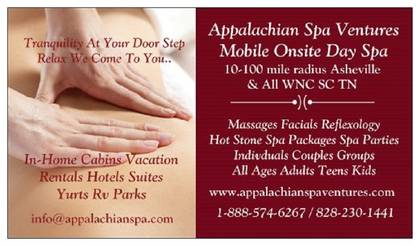 Appalachian Spa Ventures LLC  We're Asheville WNC's "1st" Traveling Mobile Onsite Massage Day Spaahh On The Go..
Relax We Come to You Tranquility At Your Door Step
All in The Calm Comfort Your Location In-Home Office Cabin Cottage Lodges Hotel Suites RV Park Yurts Airbnb VRBO B&B Country Inn Camp Glamping "or" Any Vacation Rentals & Event Venues
Over 18 years in Asheville Hendersonville Lake Lure Black Mountain 40 Years in Business Practice Serving 100 mile radius of All Western North Carolina Areas
Offering Mobile Onsite Massages Facials Body Wraps Scrubs Couples Spa Packages Hot Stone Hand/Feet Treatments Mani/Pedi's, Spa Parties All Ages Personal Fitness-Yoga-Qi Gong & Stress Management Classes, Adventure Fitness Hikes, Cultural Nutritional & Cooking Classes, Organic Catering, Life Coach Wellness, Custom Spa Vacation Travel Retreats Getaways, Concierge Reservation Service-400 Vacation Accommodations & Lodging Arrangements, Live DJ Audio Video Sound Engineer-Technician, Venue Music Booking, Weddings, Event Planning-Shuttles. Travel Agent Tour Coordinator Travel Writer Photographer
Holistic Personalized Therapeutic Body Work Massage Therapy Techniques: Clinical Structural Integrative Bodywork Swedish Soft Deep Tissue Muscle Therapy DMT Sports Hot Stone Aromatherapy Couples Massage Myo-skeletal Technique Neuro- muscular Myo-fascial T.M.J. Release Cervical Cranial Sacral Reflexology Feet/Hands Mani Pedi Treatments Acupressure Shiatsu – Japanese Barefoot Shiatsu Thai Yoga Lymphatic Drainage Trigger Point Medical Geriatric Cert. Pregnancy Doula Infant & Pediatric Massage Reiki Polarity Therapy Energy Balance Vibrational Sound Healing – Pet Equine Therapy Chair Massage European Belivi' Facials Spa Parties: Bridal Bachelorette Party Baby Showers Birthdays All Special Events All Ages  Adults Teens Kids 
We bring it all to you – Just sit back and relaaxx.. Our full range of massage spa therapies, spa packages spa parties complete this amazing Rejuvenating experience. Let our staff pamper you and your closest friends!.  
Relax Retreat Rejuvenate Your Health Body Mind & Spirit – Sppaahh Vacations To Go Delivered to you Our Natl. Cert. Licensed & Insured Spa Massage Therapists Eesthetician Personal Chef Fitness Yoga Trainer Professional Cert Event Planner Coordinators transports everything to balance the polarity of your space
I've Been honored to work many famous celebrities, presidents, musicians and many great people over my 40 years. Set up over 800 venues music corporate wedding events for several wonderful artists & vendors as their special event planner & massage spa therapist
Holistic Health Spa Consultant - Business Design Development Training Equipment Education Set up Spa Service Menu Packages Planning Train Business Management for over 50 Lodges Day Spas Resorts Hotels B&B's across the US 
Hours Of Operation: 
Mon - Fri/Sat/Sun. 8am-9:30pm  
7 days a week & Holidays
Email: info@appalachianspa.com
Office 828-333-4134
Call or Text 828-230-1441
Tamera L Campbell & Alishka Wolfe Phillips
NC #1521 Natl Cert. #8450
All Staff State License National Certified Insured Business Permits Multiple Onsite Therapeutic Massage Spa Therapists Professional Clinical Practitioners
All Business Concept Copyrighted Trademarked 2000-2018
 Appalachian Spa LLC Appalachian Spa Guide  Appalachian Spa Ventures Inc
Copyright © 2000-2018 All Rights Reserved 
Featured on Turner South Travel Three Day Weekend Vacation Show Spring & Fall 2006 & Fox Greatest Escapes Travel Show 2007 & Discovery Health Travel & Cooking Channels 2007, 2008, Adventure Travel Leisure & Yoga Magazines 2009 2010 Travel Channel 2012 2014
Appalachian Spa Consulting Group LLC 
Marketing Media 
Information: info@appalachianspa.com
Advertise: media@appalachianspa.com
Sales: sales@appalachianspa.com
Over the years set up many music corporate wedding venues Book Agent Coordinator Event planning sound stage hand and work as Massage therapist George Strait Willie Nelson Bob Dylan-Robert Zimmerman Eric Johnson Janet Robinson/Robbins Ray Benson WWE Dwayne Johnson Adam Copeland Ann Richards Pres. Bush Sr & Jr  Michelle Obama & Kids + many more -