Audio Sound Recording Live Music Bands Venue Event Planning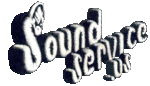 Band Venue Booking Agent, Live Music Coordinator Event Planning Audio Sound Engineer Recording Mixing Technician  stage, setup-breakdown, a/v equipment, lights, wireless mics DVD's Recordings
Videographer - Visual Photography-Video Support, Festivals Corporate Events Music Events  NC SC GA TN WV VA FL+ Over 38yrs exp. 
Rentals Event Tents Stage Lighting Wireless Microphone - Stands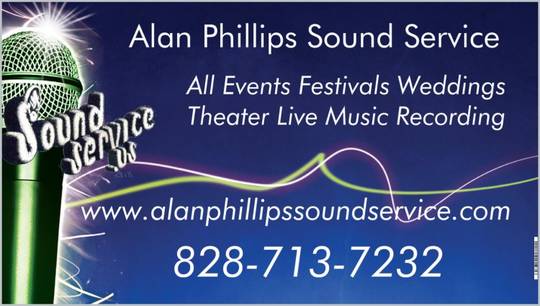 Dana Alan Phillips Sound Service    
Asheville W.N.C. Surrounding Areas - Live Sound Audio Recording & Reinforcement Technician Engineer  
 
"Kids Adults" Birthday Parties
Weddings - Receptions
Churches - Party & Events
Schools-Graduations Home Comings
Concerts/Festivals Corporate Events
Any Special Occasion. 
Stagehand Lights Microphones
Video & CD Recording
Live Sound-Set up-Brake down
Equipment & Rental
Ask About Special Rate & Quote..  
828-713-7232 or 828-628-8905
Local Asheville/Fairview North Carolina 
A Small Travel Fee/Expenses: May Incurred over 50-500+ mile radius from Asheville WNC
Also Offer: Home & Business Private Audio &
Computer Technical Support
Security Camera Repair/Set up
Rates: $35-$85 per hour 
In Asheville Western North Carolina over 25 yrs & 38 yrs Business
Serving ALL Surrounding Western North Carolina 
Asheville WNC Arden Fairview Fletcher Hendersonville Saluda Tryon Black Mountain Mars Hill Burnsville Weaverville Shelby Lake Lure Marion Lake James Lake Keowee Morganton Hickory Ferguson Lenoir Wilkesboro Waynesville Maggie Valley Sylva Cherokee Robbinsville Cashiers Highlands Concord Charlotte Columbus Greensboro HighPoint & Appalachian Regional Areas All NC SC TN GA VA WV FL Northern Eastern Southern USA
South Carolina: Greenville Spartanburg Taylors Lake Keowee  Tennessee: Johnson City Del Rio Pigeon Forge Gatlinburg TN
Music Festival Event - Onsite Massage Spa Venue Services
Pre or Post Events: Mobile Onsite Massage Therapy providing spa treatments to music venue performers managers stage crews. Our experienced massage spa therapists works has with professional performers indoor and outdoor venues since 1987 worked on presidents, musicians, actors actresses, dancers, film crews, plays theater stage wrestling Music Rock n Roll Blues Blue Grass Rap Classical, Concerts Theater Dances Contra' Wedding Events Birthday Parties
Related to repetitive motion and strenuous performances
Carpal Tunnel syndrome
Tennis Golf Piano Elbow
Tendonitis - Arms Fingers 
Stress-induced Back - Low Back - Hip Pain 
Foot/ ankle discomfort 
Neuropathy Frozen shoulder 
My licensed insured spa therapists provide all the necessary equipment (massage spa chairs/ tables, oils, lotions aromatherapy relaxing music)


Over the years set up over 800 music corporate wedding venues Book Agent Coordinator Event planning sound stage and work as  Massage therapist George Strait Willie Nelson Bob Dylan-Robert Zimmerman Eric Johnson Janet Robinson Ray Benson WWE Dwayne Johnson Adam Copeland Pres. Bush Sr & Jr  Michelle Obama & Kids + many more -
BOOK YOUR ONSITE MASSAGE SPA SERVICE ONLINE 
Videographer - Photographer Music Festivals Business Events Weddings
1 Cameraman, 2 cameras
1 hour pre-ceremony filming, entire ceremony or event
Professional edits 2 DVDS or Blu-ray featuring a complete coverage and customized menu selection  $850
1 Cameraman, 2 cameras
1 hour pre-ceremony filming, entire ceremony  or event  
3 hour reception filming Professional edits keep sake 2 DVDs or Blu-ray featuring a complete coverage main event ceremony, and highlights and 3 hour-Live Sound Audio Recording -  Reception Music or Band $1500

Audio DVD's Recordings
VIDEOGRAPHY & PHOTOGRAPHY SHOOTS
BY REQUEST AVAILABLE! 
Alishka Phillips -  828-628-8905
Offering A Full Service Appalachian ASAP Green Catering In Asheville All WNC & Southern Appalachian Regions 
Organic local dairy / eggs / Produce (fruits/vegetables) herbs/spices/condiments/oils / beverages. Including Organic Local Vegan * wheat-free   *gluten-free  *dairy-free *ASAP *salt-free *nut-free *yeast-free *sugar free *sulfate-free * low fat options
Appalachian Fit To Go is a locally owned and operated business in the Asheville WNC area of NC. With over 30 years experience in the hospitality & food service industry. Take pride in buying locally grown organic foods, hormone antibiotic free beef and poultry, recycling, donating to charities-food banks, using biodegradable products. Special diets & requests.. 
All delivered to you to your door step 48hr-2 wk notice. Prepared by a Lis. Personal Chef. All prepared fresh organic & catered-delivered for you. Custom menu planning events home business vacation rental cabin  & Personal cooking demo classes: Cook At Your location