Serving Asheville Hendersonville Black Mountain Lake Lure Weaverville Marshall Maggie Valley Waynesville All Western North Carolina Over 75 mile radius
All Mobile Onsite Includes: Massage-Facial Table Aromatherapy Spa Music Robes Warm Linens Wraps For Neck Back & Feet

All Ages: Adults Teens Kids & Pets 

Individual Appts.- Couples - Groups

   Personalized Therapeutic Massage Techniques Clinical Integrative Body work 

Massages - Facials - Reflexology

$10 Off Your First Service

40m $65  70m $110  90m $140

2hr/120m $200




Main Focus Areas:

NSBK

 Neck Shoulders Back (or) Low Back Massage 40m $65

Foot Reflexology W/foot scrub-warm wrap 40m

 

$65 

 

Cranial-Sacral NSBK Aroma Massage: 

Relieves Stress Relief Eyestrain headaches insomnia-travels revitalizing treatment lavender rosemary peppermint eucalyptus coconut essential oils are gently massaged to cranial scalp neck shoulders Warm heated towels, cooling lavender mint eye mask relax say goodbye to travel jet lag & tension headaches congestion. 40m $65




Relaxation Massage-Facial Pkg: 60m $100

30m NSBK Aroma Massage & 30m Facial




(

Couples Massage Package

) Tranquility At The End Of The Trail "2-Therapists" or "Back to Back" 

2-Aromatherapy DMT Massages
w/feet reflexology treatments 
(2) 70m $220
1/2 dz. Choc Strawberries





HS/Hot Stone Salt Rock Massage

Aroma heated basalt lava stones to key points on the body giving a deep tissue massage Penetrating heat from the stones relaxes the muscles which allows comfort & warmth for deeper relaxation  HS: 90m  $150 




Reiki/Polarity/Energy Work w/Healing Vibration Sound Bowls Tuning Forks:

Japanese Reiki-healing polarity energy system. Some conceptualize this as energy coming from God. One of the seven healing ray. "Reiki"(pronounced Ray-kee) Japanese for Universal Life Force Energy Source. Rei means Universal or all knowing encompassing. Ki means life-force energy it moves through us. Pain indicates blockage of free movement. Practitioner works energy moves through the body touching physical spirit supporting harmony awareness through body realignment enlightenment with Vibration Music Sound Bowls Tuning Forks 70m $110

Aromatherapy or Raindrop Therapy: 70m $110

Warming Aroma Oils Massage w/ cranial sacral relaxing or energizing organic herbs plants natural blends to help balance relax flush toxins out of body

Raindrop Therapy Massage with Hair Wrap: 

Warm Relaxing Aromatherapy Oils with 70m Cranial Sacral Rain Drop Therapy Massage & 30m Hair Wrap Pkg: 100m $150




Medical Massage Seniors-Geriatric Elders 

Ages 65-95.. Soft tissue medical aroma massage with warm hand & foot hydrating treatment 70m $100 

 

 Cert. Doula Pregnancy Postpartum Prenatal Massage Therapy 60m $100

Cert. Pediatric Infant - Baby Massage & Training Instruction
20-30-40mins  $35-$50-$65

Baby Hands Feet Reflexology Massage strengthens arms legs feet for lifting & walking and Parent training we will go through monthly programs needed 60m $100

 

Mommy to Be Pamper Package:

60m Doula Massage
30m Stress Relief Facial
30m Reflexology Pedi-ssages
Polish - Color of your choice  
Choc. Strawberries 120m $185 




Kid/Teens/Tweens: Traveling Mobile Onsite
Aromatherapy NSBK Mini Massages & Facials

10m $15
15m $25
20m $35
30m $50
40m $65

Pre Teen-Tweens Boys & Girls: 60m $85

Teens Deep Tissue Sports Massage or Salt Rock Hot Stone Massage: 60m $95

Mommie N' Me Package:  Mom or Dad Grand Parent and Child "2"40min Massages or Facials = $130

 

Short & Sweet Mini Massage: 10min $15

Paraffin Hand Mani-ssage: 5min $10

Mini Hand Mani-ssages: 15min $25

Mini Feet Pedi-ssages: 15min $25

Hand & Feet Reflexology Pedi-Mani-ssages: Soak Scrub Aroma Oils Lotion Warm Linens - Gift Keep Sake Polish.

 Families - Kids Spa Day
Thai Yoga Massage - Bare Foot Shiatsu - PNF Neuromuscular Therapy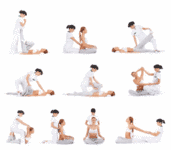 90m $150 / 120m $200
Sabai-Thai Yoga Massage:
is an interactive manipulation of the body using passive Bare Foot deep tissue yoga stretching like gentle pressure energy lines Sabai is a Thai word meaning "relaxed" or "comfortable" increase flexibility & relieve muscular/joint tension stimulate internal organs balances the body system Helps with digestion issues Sessions typically last "2 hrs"  
Performed on a floor mat futon or Thai massage table Client dressed in comfortable loose clothing. Six key points of Thai: Bare foot, Yoga, Deep Exercise, Meditation, Reflexology, Acupressure, Healing Art  Relaxing as well as energizing. Receiving a Thai massage is a bit like doing yoga without putting forth any effort while also getting acupressure treatment  Many positions in the complete repertoire of Thai massage involving relaxing slow breath-yogic stretching, rocking, range of motion work, pressure applied to energy lines-points--compression  decompression of joints Guide stretching, movements working into pressure points along body 
(Or) 

Bare Foot Shiatsu Massage

 



Proprioceptive Neuromuscular Facilitation Technique: PNF Massage
Myoskelatal Structural Intregrative Body Work Therapy stretching is a combination of passive stretching and isometric contractions. Therapist asks the client to contract the tight muscle isometrically against the therapist's resistance for roughly 20 seconds. This technique utilizes the golgi tendon organ, which relaxes a muscle after a sustained contraction.The client relaxes the therapist lengthens muscle applies a stretch at the new end range. This process of contract, resist, stretch continues for 3-4 repetitions. PNF legs, arms, trunk positions encourage flexibility coordination. Often employed to make quick gains in "range of motion ROM" A Good ROM supports better bio-mechanics, reduces fatigue helps prevent injuries.
Pet Animal Massage Equine Therapy & Holistic Spa Treatments

 Onsite Animal Pet Massage Therapy:
All Ages-Sizes Massage & Spa Therapies For Your Pets Dogs Cats Horses-Equine Equestrian Therapy
Cert. Animal Rehab Hands On Healing Touch Massage for Pets Animals - w/Tuning Vibration Sound 30m $50
Equine Massage 30m $50
Oatmeal aroma oil pet body wraps - Great for dry skin $50
Instruction-Doggie Yoga stretches/exercise 30m $50 
Diet Pet Nutrition Consultation & Fitness Weight Program Healthy Natural Foods Snacks, Exercise Walks Hikes To From (trails, parks & gardens) 4hr $100
Corporate Chair Office Groups Massage Wellness Staff Days

Corporate Health Wellness Office Chair - Tables NSBK Massages
Appreciation Days & Company Picnics Boss Secretary Employees - Stress Management Offers Benefits:  
Job related stress that comes with business world or School studies. Sometimes shows up as depression, absenteeism, lack of motivation, inefficiency, low morale & low productivity in employees. With the addition and flexibility of mobile spa services to your business facility, enhance the efficiency of your staff or students and create a desired work environment  
 Small - Larger Groups Special Events
Minimum People Required 4-10-20
Discounts Groups 20-100+..
Onsite Chair or Table Massages
Aromatherapy NSBK Massages
10m $15
15m $25
20m $35
30m $50
40m $65 
AVERAGES: $1.50 per minute set up/travel ..
To All Day-Weekend Weddings Events-Festivals-Health Expos!!
Larger Groups 20-100+ on up..
Corporate Office Festivals any other Special Event Venue..
$75-$85 per hour & per therapist Minimum 1-2-4 therapists 
No Travel Fees - Individuals Appts. - Couples - Groups
Asheville North Carolina 1'st Mobile Onsite Massage Day Spa Services Over 100 mile radius All WNC areas for over 18 yrs & 40 yrs in business

 

NC SC TN

Serving All Surrounding Locations: Asheville North Carolina Arden Fairview Fletcher Hendersonville Flat Rock Brevard Cashiers Highlands Saluda Tryon Tuxedo Black Mountain Weaverville Burnsville Barnardville Sprucepine Mars Hill Marshall Lake Lure Rutherfordton Shelby Forest City Spindale Mill Spring Columbus Marion Lake James Morganton Hickory Ferguson Lenoir Wilkesboro Boone Blowing Rock Waynesville Maggie Valley Sylva Cherokee Murphy Franklyn Robbinsville Clyde Canton Candler Cruso Cold Mountain 

South Carolina: Greenville Spartanburg Lake Keowee Taylor 

Tennessee: Johnson City Del Rio New Port Pigeon Forge Gatlinburg

In-Home Cabin Cottage Lodge Airbnb VRBO Hotels Suites B&B/Inns Yurts RV Parks-Camps (or) Any Vacation Rental Accommodations & Event Venues

 

Office 828-333-4134 

Call/Text: 828-230-1441

Email: info@appalachianspa.com

Hours Of Operation:

Mon - Sat/Sun.  8am-9pm

7 Days a Week & Holidays

Cash Checks Credit Cards

Policies: 24-48 Hour Cancellation Notice

NC #1521 Natl Cert. #8450

All Therapists State License National Certified & Insured




Gratuities/Tips are Welcome 10-15-20%+ Given to Therapists After Services. Thank you, Staff Appalachian Spa Ventures
Email: info@appalachianspa.com & reservations@appalachianspa.com Office: 1-888-574-6267 - 828-333-4134 or Call/Text: 828-230-1441